The Personnel Committee would like to introduce our new part-time ministry assistant. Ashton Dutton will be working 20 hours per week in our office on Monday, Tuesday and Wednesdays.
Ashton lives in Maplesville and her father is the pastor of Faith Baptist Church there. Ashton is a graduate of Samford University with a Bachelors of Arts majoring in Human Development and Family Science with a Spanish minor. She is also currently pursuing a Master of Social Work degree through the University of Alabama which requires both classwork and a social work internship with a non-profit agency.
Please introduce yourself to Ashton when you call or come by the church. We are pleased to have her working with us to help our church minister for Christ in our community.
We invite you to join us every Sunday morning at 9 AM in the Valley Grande Baptist Church Worship Center for Worship. We ask everyone to wear a mask and to practice social distancing (at least 6 feet) between you and others who are not members of your family. If you do not have a mask, VGBC will provide one. Handsanitizer is available and you can drop your tithes and donations in a small locked contribution box in the foyer or drop them in fishing nets which our greeters/security team have. In addition, we are continuing to broadcast our service live in our parking lot through our FM transmitter (93.1 FM) and on Facebook live which you can access in our parking lot or from home on our Valley Grande Baptist Church Facebook page.
You can also join us by radio at 11 AM for our pre-recorded worship service on WDXX 100.1 FM or on our Valley Grande Baptist Church Facebook page. In addition, since we are not able to meet regularly for Sunday School and Discipleship, Bro. Clarke is posting a Bible Study every Sunday after worship and every Wednesday. We hope that you will join us as we grow together spiritually even during the restrictions of Covid-19.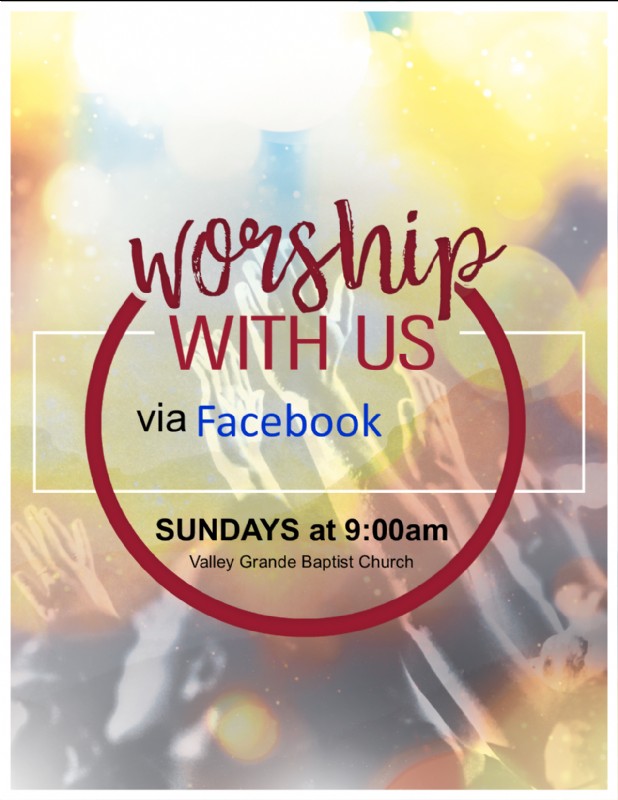 ---
Blessed is the nation whose God is the Lord; and the people whom he hath chosen for his own inheritance. Psalm 33:12 (KJV)
Valley Grande Baptist Church 48 County Road 16 Valley Grande, AL 36701